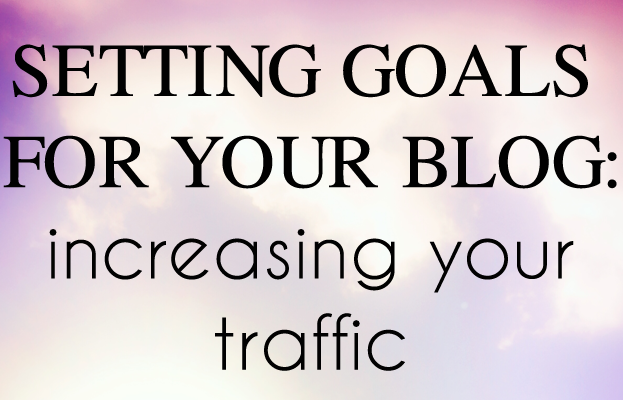 I've written before about how important setting goals for your blog is in terms of recording your progress, and this is never truer than when you're working to increase your traffic. It's all well and good saying 'I want to increase my blog traffic', but unfortunately you need to sit down and think numbers before you can make this happen! Not only will setting goals give you a better idea of your actual progress, it really does help you push for something. Here are 4 tips to help you create useful and realistic goals to get your traffic rising!
1. Look at Your Progress so Far
Look backwards before you start moving forwards. There are a few key things you need to know before you can start working on a plan of action (you'll need to make sure you have Google analytics to answer most of these):
How quickly, and steadily is your traffic going up month on month, if at all?
How much has your traffic increased in the past year (if you've been blogging that long).
Which posts have been your most popular to date, and can you see a common denominator between them?
Where is your traffic coming from? Social media? Email campaigns? Organic traffic?
Make sure you know your blogs traffic inside out, as always you'll make no progress without doing the research first!
2. Start Thinking in Numbers
Your goals have to be real numbers- don't just think "I want more readers" think "I want X amount more readers in the next 6 months". Make sure you're realistic, but don't be afraid to push yourself here! If you find it harder than you think to get more readers month on month, then you can always adjust your goals- it's your blog after all so you're the boss!
 3. What Do You Want to Change, and Where are Your Strengths/Weaknesses?
Time for some brutal honesty on your part! If you want to start increasing your traffic, then something is going to have to change. You just need to work out what that is; the amount you post, how often you tweet, what you write about….it could be anything and all the clues will be in your findings from the first point of this article! It can often be one of two things: you're just not posting enough, or you haven't properly worked out what your audience enjoys- if you want to find out more from your audience than what you've got from Google analytics, why not put together a survey to find out what posts your readers enjoy best?!
 4. Start Recording Any Changes in Your Traffic- Positive or Negative
Start putting time each week to sit down and really look at your blogs progress. Which posts have fallen flat? Which social channels have bought in lots of traffic? What posts have gotten the most traffic?
The idea is that eventually you should start seeing a pattern, which you can learn from and use to help you build a strategy that really works! It may well take a couple of months to really get to grips with what's going on behind the scenes if you haven't been paying much attention to your traffic acquisition yet- but this gives you time to experiment with your content so you can really see what works. If you already regularly monitor your traffic you may well be able to give this final point a miss- in which case set those goals, work out what you need to change and (fingers crossed) see how your traffic improves!
Make sure you keep us in the loop with your progress! Have you been working on improving your traffic? Do you have any tips to share? We'd love to hear your thoughts in the comments below!