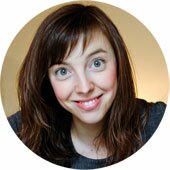 Your blog is now one of the best known food blogs in the world, did you expect it to reach this point when you started?
I didn't expect it in the least! I originally started Chocolate & Zucchini as a place to share ideas and stories with like-minded cooks, to document my recipes and the dishes I was excited about, and to hold on to the memory of successful meals. I did not anticipate that I would discover a passion for food writing in the process, but it's been a thrilling ride!
What advice would you give to bloggers hoping to turn their site into a career as you have?
I would say patience and persistence are key: maintaining a blog is hard work, but it's a great sandbox to try things out, and if you keep at it you will sharpen your skills tremendously. Also, the main thing to keep in mind is the value you bring to your readers: certainly, a blog is about its author one way or another, but it has to teach, entertain, or inspire (and preferably all three), or readers won't see what's in it for them.
What has been the highlight of your blogging career so far?
I am most grateful for the many friends and connections I have made thanks to Chocolate & Zucchini. This blog has allowed me to meet — virtually and in real life — more fascinating and passionate people in ten years than I expected to in a lifetime
And finally- congratulations on the blogs 10th anniversary! Where do you see it in another 10 years from now?!
Thank you so much! It's been an exciting milestone to reach. I admit I am not one of those people who create long-term roadmaps for themselves, but I believe my love of food could sustain my interest for decades to come, and my hope is to continue to do what I love and to love what I do, whatever shape or form that takes ten years from now.
Clotilde Dusoulier is the Parisian food writer behind the award-winning blog Chocolate & Zucchini. Her focus is on fresh, colorful, and seasonal foods, making room for both wholesome, nourishing dishes and sweet treats. Her new book The French Market Cookbook celebrates the love story between French cuisine and vegetables.