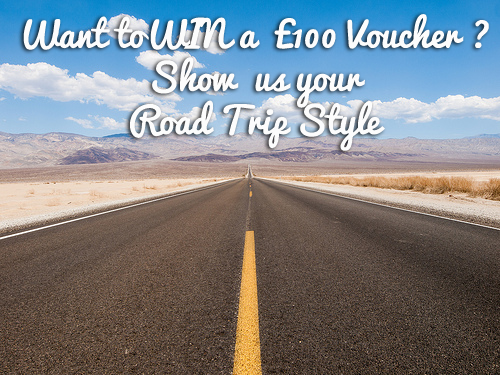 THIS COMPETITION IS NOW CLOSED!
Calling all fashionistas and style-conscious travellers! Have you ever dreamt of hitting the open road? Whether you love Americana road-trip style, or would love an Australian Golden Coast adventure, this competition is your chance to showcase your style!
We've teamed up with specialist travel company Round the World Experts to give away a £100 fashion voucher of your choice, to the blogger who can put together the freshest road trip look.
Whether you love to rock vintage Americana, prefer the boho look, or are more at home in some skinny jeans and the latest trainers, we want to know how you would stay stylish on an epic road trip. We can't wait to hear from you!
How to Enter
Simply put together a blog post to showcase your favourite road trip look, inspired by the amazing fly drive adventures Round the World Experts have on offer on their site. Fly drive journeys range from the beautiful East coast of the U.S.A, to the wild open plains of South Africa. The choice of road trip is up to you! You can use a collage, a mood board, or a series of photos. Showcase your blogging talent!
Post the entry on your blog along with a mention of Round the World Experts, email a link to your entry to and fill in the form on the right if you're not already a member of the Bloggers' Lounge.
Tweet your entry and with the hashtag #RTWEcomp, and then nominate three travel-loving bloggers who you think should also showcase their ultimate road trip style!
Terms & Conditions
The competition opens on 1st May 2014 and closes on 31st May 2014.
Round the World Experts and The Bloggers' Lounge will be judging the winner. The winner will be selected on the basis of the quality and content of their post, as well as complying with all entry conditions stated above.
The winner will be awarded a £100 voucher from one of their favourite shops* and will be contacted within a week of the closing date via email. The prize must be claimed within 10 days of notification.
This competition is closed to relatives of those at the Bloggers' Lounge and Round the World Experts.