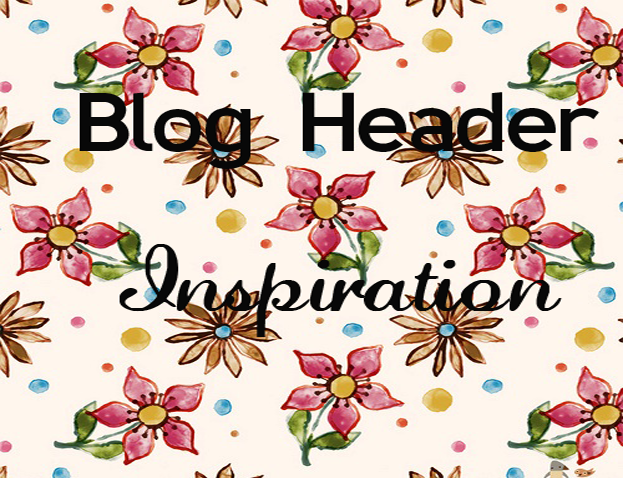 Your blog header is probably the most important part of your blog design. It is the first thing that readers and brands see, and should give them a quick insight into not only what your blog is like, but what you are like as a person. There are lots of different ways that you can design your header, and show your personality. It can feature graphics, showing your favourite things- see Wish Wish Wish and What Olivia Did for inspiration- although this probably works best on a personal blog, or a lifestyle one.
But if you think you and your blog are more into neutral and simple design, then go for that with your header! Take a look at this design from Lily Melrose, it's bold and makes a statement- and you know immediately what her style is, and sure enough- a quick scroll through her photos showed me a lot of her outfits are very slick and stylish, and all incorporate black in some way.

I got this tip from my A Level photography teacher about getting a tattoo, but I think it's just as important for this- imagine having your header framed and hung in your room for a year, where you would see it all the time. Do you think after a year you would still love it, or would you start to get bored?
Similar to having a tattoo, do you think it's really 'you'? This isn't just so you love and are happy looking at your header, but also so that brands and readers know you and what you are about. One of the main reasons that people keep going back to read your blog isn't just because they are interested in the subject your write about, or because they love your writing and photography skills (although these are obviously really important) it is also because they really like you as a person, and what you are about. So it is important to reflect those features in your header.
A couple of times I have seen headers that don't quite match a blog…. For example, if you run a beauty blog, then your header should reflect that; any graphics you use should be items like lipstick, hairbrushes, and mirrors….not things like cupcakes, kittens and hearts. Even if you love cupcakes, kittens and hearts I haven't yet read a beauty blog recommending me to smear frosting on my face, so best to stick with traditional products!
In reference to the style of headers, I would advise against going for trends. I have seen a lot of triangles at the moment in jewelry, fashion and prints which are starting to creep into blogging trends. Now, I love a geometric print as much as the next person- but I know that eventually a new style will come along and be the new hip thing. You don't want your header to look old fashioned- remember style never goes out of fashion.
On a technical point of view, your header should be visible on all the pages of your blog; and- very importantly- should always link back to your homepage- it just makes it so much easier for the reader.
I spoke to Amy Callaghan, a designer about what she thinks is the best way to go about designing a blog header.
I believe the most important aspects of designing a header is to first establish what the blog is for and what audience it is targeted for. Another point I always try to remember when coming up with the design is to keep it simple. Nowadays, you see so many blogs and their branding is so complicated and overdone that it actually becomes diverting and can hinder rather than emphasise the blog content.
 Design is a key aspect to the performance of a blog. If the design is badly done, the audience will be instantly put off. In the case of the header, it is the first thing the person's eye will be drawn to, and so quite a lot of thought needs to be put into the design to entice the reader to explore the page and find out more.
I've designed for multiple branding projects for small and large companies, mainly in fashion and beauty, and the first thing I tend to ask is what first impression would they want to give the viewer, Fun? Creative? Professional? Are there any aspects or key features they would like to be incorporated into the design and layout of the header? What colour palette are they wanting to work with for the branding of the blog website? I always try and give my creative opinion on what I would do as you often find the client isn't 100% sure on what they want, so it's always good to work with them to get a few initial ideas.
 As a designer I look for smart, simple design with a touch of wit. When it comes to design people tend to over complicate and go for flash and technique and what is forgotten is the core idea. If you can't describe your work or explain why you've designed it that specific way in no more than 2 sentences, you've over complicated your idea.
I also chatted to a few lovely bloggers about their headers, and what they thought was important when designing them.
Custard and Cream

How long did it take you to design your header?
My current header took about 5 days start to finish. As my blog has moved on I have commissioned 2 designers (the first designer can't get anywhere my vision after 30+ attempts and mood boards so I've walked away (not that I'm fussy!) to create a new header that will form my design moving forward.
What do you think are the most important aspects when designing a header?
The header needs to get across what you blog/brand is. When you see a header on a blog / Twitter or Facebook it can say a lot (rightly or wrongly) about your blog.
How important do you think design is to the performance of your blog?
If your header is eye catch and well-designed it will draw people to your blog.
Prete Moi Paris

What made you select your header?
I used the have a skyline header but I changed that a few years ago because I felt that a Paris skyline was too typical and I also wanted my header to actually be my blog title.  I wasn't a huge fan of how my WordPress blog theme displayed my blog title so I use the header to do that now.
How long did it take you to design it?
Probably a couple hours to get it right; I use Gimp, an open source image modification and creation tool.
What do you think are the most important aspects when designing a header?
I think it needs to be attractive and offer a good idea of the identity of your blog. It is often the first thing people see (unless mobile devices display your blog differently and your audience tends to use phones for reading and checking your content). It's like a first impression.
How important do you think design is to the performance of your blog?
 I think design is VERY important.  I find myself discouraged from reading other blogs if the design is not easy on the eye or if it's not well presented. A blog header is like a great pair of shoes,  it can make the whole outfit fabulous!
The – Dame

What made you select your header?
I designed my header myself. It's a photo I took of these awesome shorts I bought in South Africa with a mala bead necklace I also bought there. I love the bold, bright colours and that it's unique to me.
How long did it take you to design it?
I used Canva to design the blog name over the picture, didn't take me long and I use the colours in the header across all my graphics.
What do you think are the most important aspects when designing a header?
The most important aspects when designing a header are that it is clear and concise. I can't stand people who use a hard to read script font or too many clashing images or colours. It also needs to be the proper size, stretching across the top of your blog, not scrunched up in one corner looking out of place.
How important do you think design is to the performance of your blog?
Design is everything, when people visit a blog and it's confronting with either too many patterns and clashing colours and elements or just not user friendly and easily laid out people will immediately leave, I know I do! I can't stand an ugly website and it is so unnecessary in this day and age. We can get ready made blog designs for free or even just a tenner that are designed with the user in mind, sharp and clean and get people focusing on your content and knowing immediately what you're about and how to follow you across social media if they want. That is what is key.
 So I hope that this has been helpful, and you have been inspired by some of the ideas here. Let me know if you have any more tips in the comments!