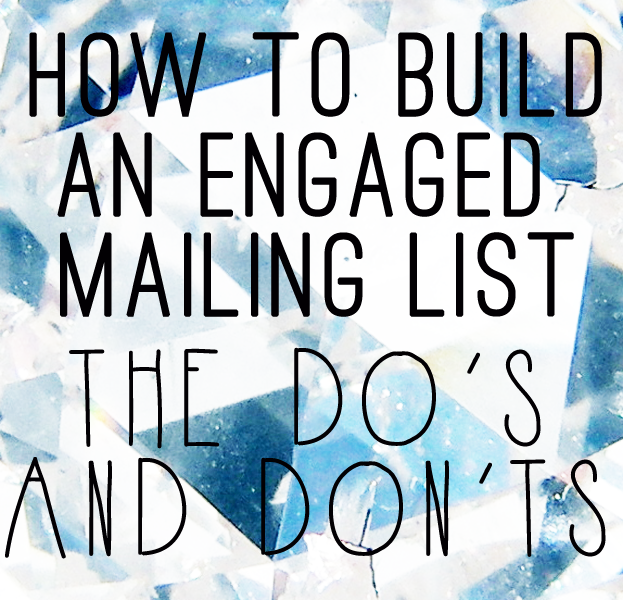 I cannot even begin to express how useful a good quality mailing list can be. It's a great way to contact a list of engaged readers, however small or large. You can tell them about new content, blog news or brand collaborations. The ability to send a message out to a list of relevant readers is invaluable- both to you and to the brands you work with if you decide to monetise.
Here are a few pointers on the do's and don'ts of building a really great mailing list:
DO:
Ask People to Join!
I've spoken to so many people who are terrified of asking people to subscribe to their mailing lists! Don't take someone saying no as an offence; some people just like to keep their inbox as clear as they can which is no reflection on you. There is absolutely nothing wrong with you reaching out to your readers to let them know they can join your list.
Send out Interesting and Relevant Content
If you do decide to create a mailing list, you need to find the time to think very carefully about what you'd like your email list to read. It could be a few interesting blog posts from your own site, or interesting and relevant content from around the web. I would advise including at least a bit of your own content as mails outs can be great for boosting traffic when done right.
Have a Place on Your Site Where People Can Sign Up
It sounds simple but it's missed by so many. Have a dedicated widget or space on your website where people can quickly and easily sign up. It could be in your side bar or part of your about me page; any where visible and accessible will work well.
Think About Your Subject Lines
Your subject line is almost equally as important as the email itself. You want to create a short snappy title, that describes what's in the email without selling it too hard. A pushy subject line will put people off, but a descriptive one will draw people in leading to a higher open rate.
DON'T
Use it too Often
Although a mailing list can work well as a marketing tool, it can be so easily abused. Don't email every time you publish a blog post, and don't offer every brand you work with a mail out to your readers- it'll only lose you subscribers. Be picky about what you send to your reader's inboxes!
Neglect it Completely
If someone signs up to a mailing list and then never receives anything they'll no doubt be a little confused. If you don't have the time or the content to send out emails, then don't bother setting up a mailing list just yet! Setting up a mailing list shouldn't be done just for the sake of it, if you're going to build a mailing list have a purpose for it!
Include too Many Links in Your Emails
Too many links will mean your email will get pushed into more junk email boxes- not ideal at all! If you want to link to lots of different pages it might be worth creating a post with a collection on links in, and then linking to that in your email.
Do you have a mailing list? Give us your tips in the comments below!