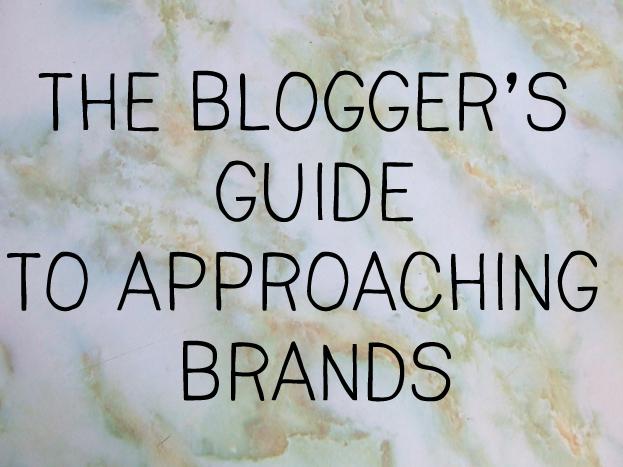 Many of you will get approached from time to time by brands, often asking for sponsored posts or product reviews. However these requests may not be exactly what you are looking for. Perhaps the brands don't align with your ethos, or you're looking to build a relationship rather than take part in a one off sponsored post. Even though it's perfectly acceptable, most bloggers totally bypass the idea of actively getting in touch with their favourite brands with a proposal- bit this is something you should all be doing! Here are a few pointers on how to approach brands:
1.       Be clear about what you're looking for.
If you are going to contact a brand you need to have your aims 100% clear before you do so. Are you just looking to introduce yourself, or do you have a definitive proposal you would like to get their feedback on?  What you are suggesting needs to be immediately obvious to whoever is reading your email.
2.       Be ready to negotiate
Although it's important to have your aims clear, don't scupper your chances by sticking too heavily to your guns. Be ready to negotiate terms, you may end up building a really valuable relationship. The approach should not be to demand product or money, but to suggest a relationship that could work for both of you- and will last! Perhaps propose a 'brand ambassador' situation, where you help promote the brand in return for a little promotion of your blog from their side. This may not mean immediate payment- but it will mean a growth in readership, and a growth in readership will help you hugely if you are aiming to sell advertising on your blog.
3.       Be realistic.
If you are literally just starting out, it may be too much to ask for a brand ambassador position- but this does not mean you should avoid brands all together. Get in touch and introduce yourself. Make it clear you love their brand, and that as your following grows you would love to work with them. This will flag you up as an enthusiastic contact, and is a great way to start relationships right from the off! Brands will love your enthusiasm.
4.       Be Picky.
There is nothing more off-putting to a brand than a blogger that just wants to collaborate with anyone and everyone. When a brand looks at your site, you want it to be clear that you have contacted them for the right reasons-
You are experienced in their niche
You love their brand
Your readership is relevant to their brand.
If upon looking at your site it's clear your collaborations have no focus and are only profit focused, a brand will dismiss you as a serious contender. Although they may suggest something like a sponsored post, it's unlikely you'll be able to build on this further- and if you want to begin blogging full time it is essential these situations develop into something more.
5.       Know the value of your blog!
Although you of course must be open minded- never underestimate the value of your blog. Don't let your blog become a holding page for irrelevant brand mentions, however new your site is. Even if you're just starting out, if you plan to invest significant time and effort into your blog whilst following guides like ours it will grow. If you've already reached a great readership point than use this as a commodity.
Remember that any relationship you form has to work for you, so only approach brands you really think will help you reach your goal- don't just work with brands that make it easy for you. And finally, don't agree to anything that you aren't 100% happy to have on your site. If the conversation strays too far from your aims, it's time to look elsewhere for collaborations.
If you have anything to add, or just want to get in touch with us please do! Email or tweet