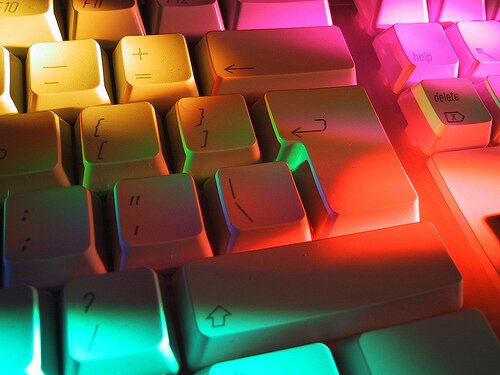 The blogosphere has been boiling over with talk of follow and no-follow links- particularly over the past 12 months, but what exactly are they and what does 'follow' or 'no-follow' mean? Here is a quick guide to linking, and when it might be time to use no-follow a link!
What's the big deal when it comes to follow links?
Back when Google started, it came up with a unique way to 'rank' websites that placed it apart from competitor search engines. Google decided that as well as the quality of content, the amount of links that a website had pointing to it would be a large contributor to how much value it had and therefore where it ranked compared to other sites.
Not only this, but if the link was from a relevant 'anchor text' then the website in question would therefore be attributed a higher ranking when people searched for that keyword. For example, let's say the BBC wrote an article on blogging tips and within that article linked to the Bloggers' Lounge (I wish) from the anchor text 'blogging tips':
"Latest news: The Bloggers' Lounge is without a shadow of a doubt the best provider of blogging tips on the planet"
Until relatively recently, Google would take that link as an indication of our relevance to blogging tips and would therefore rank us higher for it when people searched for that term. However it would only be able to do that if that link was a 'follow' link.
Times have changed
Like all easy fixes, this process was abused until breaking point as brands begun to place random irrelevant articles on any old websites purely to get that link. This meant that in some cases, brands would start to rank incredibly high on Google search for terms they didn't necessarily deserve to. However generally speaking this does not work anymore. This is largely due to the much talked about Google penalties that started to take down sites that were abusing its guidelines. Not only were the brands that paid for hundreds of spammy links punished, many of the sites that agreed to take the links were also given a penalty. Of course for this reason the industry had to change. Google has now given quality content pride of place, and although having a few relevant and good quality links is still important the system can no longer be taken advantage of as it once was.
So is it ok to link or not?!
That completely depends on the circumstances. If you're a beauty blogger and a car repairs company gets in touch asking for a link- run for the hills!! However there are plenty of times when linking to a page, product or website is beneficial to a post.
Using the example of a beauty blogger again, if you're trying out the latest blusher brush and you really can't recommend it more- surely it makes sense to provide your readers with a link? In very general terms I use this premise when thinking about links-
Does the content in question naturally fit with my blog?
Does the item/place/site I'll be linking to fit very naturally within that article (i.e. is it going to look almost odd if there is no link)?
Is the site I'll be linking to good quality, and would I even be likely to link to it without being approached by the brand?
Are there a whole load of spammy sites linking to the website I'm thinking of linking to? (If the answer to this is yes- again steer clear!)
Overall you're going to need to decide on a case by case basis if you are comfortable linking. But above all, if you do then make sure it's relevant!! In simple terms; If you're linking from a great piece of content to a great quality site which totally aligns with your blog you should be absolutely fine.
When should I use 'no-follow'?
To be honest, there most likely won't be a circumstance that you end up feeling you have to link to a totally inappropriate or bad quality site! But, if you're worried about the Google guidelines a no-follow link stops your site passing any authority or endorsement onto the site you're linking to. Therefore, if your worst fears are confirmed and a site you're linking to gets hit you should be safe from any repercussions! Make sure you're picky about who you link to, and only provide a follow link to sites you fully trust and endorse.
Should I allow people to use follow links when linking to my blog?
Under most circumstances yes! It's not just brands who should be thinking about SEO, its bloggers. Saying that, if you are featured on a blog relevant to yours by all means ask for a link! The only sites that would need to worry about no-follow links are those that have in the past built spammy or unnatural links. Follow links from great websites relevant to your content are really good for your blog.
Any more questions about follow and no-follow, or any other blogging related questions?! Feel free to comment, tweet or email me.