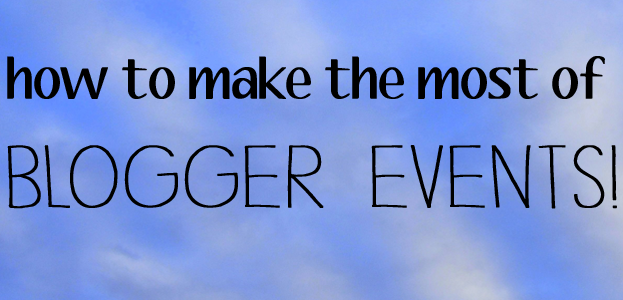 Blogger events are always great fun; meeting new bloggers and finding out about new brands you could work with is what a lot of us love most about blogging. But there's so much more to blogger events than just meeting up for a couple of free drinks- with the right prep you can build better relationships, create better content and have an even better time! Here are a few tips from us on how to get the very best out of your next blogger event:
Research the Brand/ Product Before you Go
Lots of you are going to read this and think 'well obviously!', in which case you have full permission to jump to the next tip! However, there are plenty of times we've spoken to PR's who have had bloggers turn up who either know nothing about the brand- or even don't actually like the brand that much once they hear more! If you're going to an event, give yourself a head start by reading up on their products, values and goals. This way you'll never have to waste your time by liaising with a brand that might not be for you- plus if you really love them your knowledge will stand out should you get chatting to a brand rep.
Find Out Who Else is Going
It can be daunting going to an event when you're not too sure who is turning up! Find out who else in your blogging community is going, and ask them if they want to meet for a coffee/ drink beforehand. Walking into a room of other people is far less daunting when you're doing it with someone else. Also, half of the point of these events is for you to meet new bloggers, so focus on that as well as the brand themselves.
Introduce yourself to the Brand Representatives via Email Before you Attend
The business side of you has to make itself known a little here! It's really not that often you're going to have the opportunity to chat to a brand rep face to face, so make sure you really begin cementing that relationship. Send an email letting them know you're looking forward to the event, follow them on twitter and make sure you ask any questions you have about the product. PR's generally really like people showing genuine interest in the brands they represent- so make it clear that as well as looking forward to a fun evening you're also there to learn about their brand.
Live Tweet!
Live tweeting can work so well when done properly, especially during any demonstrations or talks there might be. Include visuals, be aware of any brand hashtags, and tweet your fellow bloggers that are also at the event! Blogger events are a really great opportunity for you to create some new social content for your followers, so make sure you take full advantage and increase your social media output for the evening.
Are you planning any blogger events? Or do you have any tips/ideas of your own to add? Let us know, or just say hi in the comments below!