Menus and Sidebars…. More Important Than You Think!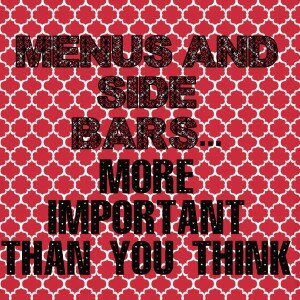 Oh, how we love good content and photographs here at The Bloggers' Lounge, it's what keeps us going, it really is. But why have good content when we can't find it? Your menus and sidebars are really important to your blog, not only do they make your blog look more aesthetically pleasing (more on that later) but they also make you look more professional, and like you have a lot of content- even if you've only just started blogging
1. Divide up your categories!
As much as we all love reading fab blogs, if we have to scroll through pages and pages of posts to get to the one we are looking for, it can get a bit frustrating. If you run a lifestyle blog, chances are you write about a lot of different things: fashion, going out, décor…. That's fantastic, but it will be even more fantastic if you divide up your categories making it easier for your readers to find the post about your amazing weekend away!
2. Make your menus beautiful!
As a sucker for graphic design and colour schemes- I could bang on about this all day, but I'll try to keep this short and sweet…. Try and be as creative as possible when designing you menus and sidebars, look at the beautiful menu Poppy Loves has- it's very simple, fits perfectly with her theme- and is fun too! If you are more into your typography than photos, then that's fine too- use simple, bold and easy to read fonts to direct your readers!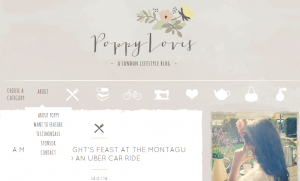 3. Make it easier for us to know you!
Links to your social media sites are really important- first think about placement. You should have your social media links on your homepage- mostly because it's easy for people to find. It's tempting for you to put the links on your 'About' page for a cleaner homepage, but always think of your readers convenience!
Now… design! Here are two of my favourite designs from Joli House and In The Frow… I chose these two because not only are they easy to see, but they have changed the icons to fit into their blog's theme, and have experimented with colour and style.
So that's just 3 of my ideas for your sidebars and menus, hopefully you will find them useful- I would love to hear your ideas too! Pop them in the comment section below!