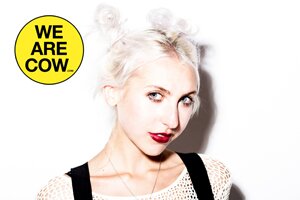 We spoke to Cow Vintage about how they work with bloggers, and what you can do to attract brands like theirs!
1.       To begin, tell our readers a little about Cow Vintage, and the blog itself… What kind of things do you cover and what are your aims for the blog etc?
Cow is a fashion and trend led vintage store which offers one off vintage and reworked clothing and accessories. We look ahead to trends coming off the catwalks to buy in certain styles so even though we are working with vintage clothes we can keep up with high street competition, as well as sourcing our more extravagant and unique pieces that you couldn't find anywhere else. The first store opened in Birmingham 7 years ago and since we have opened in Sheffield, Manchester and Nottingham. The website is relatively new and only been running for about a year and half even though the relaunch is creating a whole new way to shop vintage online.
We Are Cow is our online shop and offers exactly the same as the stores but includes all social medias like the blog, facebook, instagram, twitter, tumblr and pinterest. We use our blog to promote what is going on in stores and online. We want to keep people informed of the work that goes into running the stores and website. Features like 'Meet The Team' are always our most popular posts and we get great feedback from people who enjoy reading about the people who work here. They are the faces and the personalities of the stores from what they wear, to what music the play in store and all of this contributes to making the brand what it is.
We also talk about things we love as a mixture of people who enjoy different things like bands, dj's, movies, gigs, street style, exhibitions, events and pretty much anything that is going on in or out of the cities our stores are based in. The aim to capture the attention of like minded people who we think would enjoy our brand and product we are offering.
2.       How does Cow work with other bloggers? Tell us a little about the kind of features you produce with blogger's etc
We approach fashion bloggers who's style we love and know they would appreciate the stock we have. From there we will send them items to showcase on their blog to see how they style it up and reaching a new audience to introduce Cow Vintage to at the same time. We feature a lot of our Reworked items because sometimes the appreciation for a reworked item gets lost in stores and it's nice to see what the bloggers write about the time and effort put in to alter a certain item.
3.       When looking to work with bloggers, what exactly do you look for? Is there anything that might put you off working with a blogger?
We always look for a blogger with a great sense of style and personality. We love people who know about trends but dabble with them and wear items in a different way. We love so many styles and work with bloggers who are grungy, goth, girly, twee, smart/ sophisticated and more. Fashion blogging is a very popular thing now and many people start it for the wrong reasons. The only thing that puts us off some fbloggers is when they are expecting free stuff and not talking about things because they are genuinely passionate about it.
4.       Are there any tips you can give our readers looking to work with brands like Cow?
If you are looking to work with brands like Cow I would say that you need to find out more about the company and recognize how much hard work goes into independent brands that have started from scratch and can only hope to become more popular in an ever expanding and competitive area like vintage.
5.       And finally, who is your favourite blogger of the moment?!
That is a hard one, we follow hundreds of bloggers but I would have to say we always love to see what these people are up to:
Lua Perez, Thunder and Threads, Kayla Hadlington, Style Me Grasie, Sara Waiste, Amy Valentine and the most recent bloggers that have caught our eye are Stinkin' Hippies from Sheffield.
If you'd like to be interviewed by us, get in touch with