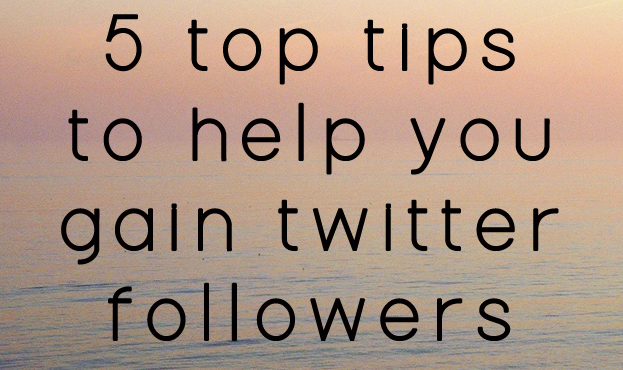 Looking to increase Twitter followers? You've come to the right place. Natalie De Luca from the South London Blog shares her tips on how to get to that all important 1,000 follower threshold, and beyond.
1.Start Following Others –
This sounds like an obvious one but the crucial thing here is to follow the right type of person.  Yes all your friends might be following Stephen Fry, but is he going to follow you back? Doubtful. And is he tweeting about your blogging niche? Probably not. Be strategic about who you follow, it's a way to get yourself in front of a relevant audience as they will be notified you have followed them and by following people who are relevant to your blog you are likely to pick up some useful info along the way.
2. Interaction –
Once you've started following people in relevant areas, it's now time to start interacting with them.  It's worth setting up lists, or if using hootsuite, streams with relevant profiles/keywords so that you can follow conversations of interest.  Are people asking questions you can answer? If so respond. Are people having a conversation around your area of expertise? Get involved.  The more you are getting yourself in front of people interested in the topic you are writing about, the more people will notice you and start to follow.
3. Facts –
People love a fact, they are sharable, interesting and great when used to show off to friends at the pub.  Tweet facts which are relevant to the topic of your blog and watch the re-tweets roll in.
4. Scheduled Tweets –
Scheduling tweets is a great way to save time, increase your tweeting output and tap in to those times when people are most likely to be browsing their twitter feed without having to be 'switched on' at all times.  Twitter works in real time, so don't assume that all your followers have seen all your tweets.  It's OK to tweet the same blog post more than once to increase its visibility.  Doing this is a good example of tweets which can be scheduled ahead of time, provided the blog post is not time specific (eg an event listing which has already happened).  You could also schedule a series of facts to be tweeted as these are not time specific.  Think about when people are online and schedule tweets for these times to gain more traction.  Immediately before and after work are good times, as are lunchtimes.
5. Provide Insight
Twitter is not Facebook and shouldn't be used as such. So don't tell followers what you had for breakfast and that you're stuck in traffic, you're trying to gain twitter followers here, not lose them.  Make sure that your tweets are interesting and informative.  Food blogger? Let your followers know of new restaurant openings. Fashion Blogger? Tell your followers about that sample sale that's not to be missed.  You want your followers to gain something from your tweets, by providing useful and interesting information people are more likely to re-tweet you, bringing your profile to a wider audience.
Need any more advice or have any tips? Tweet in to and get involved!