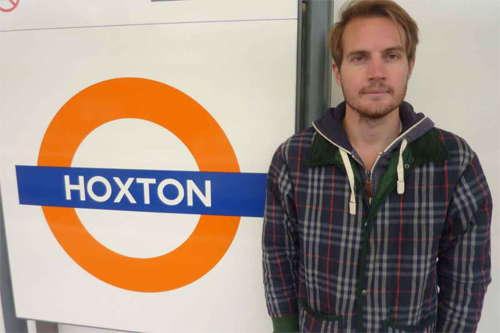 So tell us about your blogging career- when did you begin blogging and what sites have you blogged on?
My career harkens back to 2009 when I was living in Vietnam working for a lifestyle magazine and dipping my toe into the world of WordPress. I guess that's where my interest in online publishing started but I didn't make a big go of it until a couple of years after that when I left my job at a travel tech start-up in London and went out alone into the big bad world.
From there I started blogging and keeping a record of my Spanish language learning progress over at MySpanishAdventure.com and found I could grow quite an audience there. What I was doing seemed to resonate a little and I found I got a lot out of sharing my story with others and inspiring them to do the same. Then I discovered I could start making a bit of money from the whole shebang by means of advertising.
Since then I've run and sold a few different blogs including TravelSexLife.com, GoingAbroad.org and a bunch of others. I've spoken at a few industry conferences (TBEX, Traverse) and met a lot of people along the way. I'm taking a bit of a break at the moment while figuring out what my next move is. I also got a little tired of spending so much time away from home!
Why did you decide to start blogging? Was it a financial decision, a creative outlet…?
Primarily through ego and the need to be loved I'd say. It's why a lot of bloggers start, because they want to captivate people with their stories or words (despite them more often than not being overly enthralling). I've always been interesting in writing, design and everything online, blogging was a natural step from my magazine writing beginnings.
I still find the medium pretty exciting although travel blogging can be a little repetitive. Unless someone is really fascinating as a personality, keeps challenging themselves in different ways and experimenting in different mediums it's difficult to keep me interested. I respect a lot of people who've kept at it and put a lot of value into the world by providing a lot of information that otherwise wouldn't be available. A lot of the travel blogging niche is simply people copying and ripping other blogs however. I think there's a lot of room for innovation. I'd like to see people doing more community orientated stuff, feeding off recommendations and challenges of readers. I'd also like to see more edginess. A lot of the content is watered down due to advertising and commercial pressures, tie-ins with promotional trips etc. There's definitely more capacity for artistic voice!
I am minimally involved now as I'm taking a little time out. I still find the medium useful for income generation, it just isn't serving me creatively right now and I don't have the energy to fully explore it. I'd love to hit the drawing board and explore some of the gaps existent though. I'm utterly convinced there's plenty of unique ideas out there that can help freshen up the space and inspire different types of people (not those already dead-set on travelling) to pay more attention to travel and what it might offer.
What has been the proudest moment of your blogging career?
A few different projects. I really loved TravelSexLife as a concept and was pretty proud of how far we managed to go with the platform in terms of content and stories. We eventually thought we'd taken it as far as we could go however and moved onto other pursuits.
I've also been pretty grateful to be invited to a few big events to talk and present my viewpoints on the industry and its opportunities. Through those opportunities I managed to meet a lot of great people and made plenty of friends along the way.
In short though I still think there's plenty yet for me to achieve and I'll keep coming up with more ideas and working on new things. I'm just not sure which space or industry is next for me.
Where would you like to see your blog in a year from now?
I'd love my current blog willpeach.com to keep being a reflection of my career in progress. I think a lot of my blogs have died because I've grown bored with the subject matter and ran out of things to say. If I can keep my current one updated with weekly thoughts and chart what's going on with my life (if only for me and not a wider audience), then I think that's a positive step forward.
In terms of travel blogging I'd like to revamp a few of my existing platforms and fill them with content that serves people for the better (and does more than simply entertain). I have a few ideas I'd like to implement that I can't see people doing right now. A lot of that revolves around languages, psychology and culture, really exploring how and why people travel and what drives the decisions they make.
And finally who are your favourite bloggers right now?
To be honest my favourite bloggers are outside of the travel blogging space. I enjoy James Altucher, my friend Niall Doherty and of course FluentIn3Months.com.
I spend most of my time reading books, rarely do I read blogs these days!