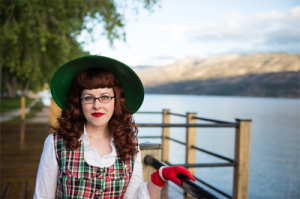 We had the pleasure of speaking to Jessica, the founder and editor-in-chief of Chronically Vintage. Not does she run an incredibly successful blog of her own, she also has extensive blogging expertise and had some really great advice to give! Here's what she had to say:
1.  First, just tell us a little about yourself and your blog!
I'm a 29 year old vintage blogger who lives in a gorgeous little sun-kissed corner of Canada (yes, those really do exist :)) called Penticton in the province of British Columbia with my darling Italian husband, Tony, and our cuddle bug cat (Stella) and endlessly rambunctious, but completely sweet, American Bullador puppy (Annie).
For as far back as in time as I have memories, I've been endlessly fascinated by anything to do with history (and genealogy), very much including the mid-twentieth century, with the 1940s and 50s being my very favourite decades. Growing up, though I didn't know that anyone actually did so, I knew in my heart of hearts that when I became an adult, I would wear the fashions (and hairstyles and makeup looks) of these decades, because they spoke to me so deeply and I was enchanted by their beauty, elegance, and endless variations.
By the time I was in my teen years, I was wearing vintage clothes (picked up at local thrift stores, back in the day when 30s-50s pieces were still quite easy, and affordable, to come by at such places) and have been ever since. While I don't have anything against modern clothing, I just love and feel so much more like myself in, vintage fashions, so I sport them at least 95% of the time in a given year and my wardrobe is comprised of mostly vintage, vintage reproduction, and vintage appropriate items.
In April 2009, in the midst of some extremely unpleasant medical issues (I've been severely chronically ill with multiple medical conditions since I was 18), I decided that I needed something in my life that I would enjoy greatly, take my mind off off my health (if only for a brief spell most days), give me an outlet to write (I've always adored writing), and allow me to connect with other like-minded folks around the world from the comfort of my own laptop. As vintage was already one of my biggest passions in life, it just seemed natural that I would launch a blog about it, and thus Chronically Vintage was born.
My blog is an extension of myself, my life, my way of viewing the world, my unending desire to celebrate and preserve the past, and a place for me to share photos of some of my vintage outfits and yesteryear year items that I purchase at places like yard sales and flea markets in our area.
I'm quite a prolific blogger, typically posting three to five times a week, with an average of four (sometimes more) vintage outfit posts per month, in addition to several other posts on a wide range of topics pertaining to mid-century fashion, culture, history, celebrities, home decor, recipes, old photographs, and myriad other things, as well as various posts about my musings on different topics and the neat things that happen in my daily life.
My blog is huge part of my life and I love it with all my heart. I have a genuinely hard time at this point imagining my world without it. I hope that, much as with vintage itself, Chronically Vintage will always be a part of my life.
2. You have been an active member of the blogging community for a while now, and have built up a great following. What exactly do you need to do to get yourself integrated into the blogging community, and how important is it?
There's no magic formula for success here, let alone one that can be applied broadly to the countless different types of blogs out there, but some general pointers that have proven very helpful to me over the years are to be realistic, patient, diligent and hardworking.
Rome wasn't built in a day, and unless you're already famous or have more luck than you know what to do with, neither will your blog's audience suddenly appear overnight. You need to write quality (original) content, post on a regular basis, garner inspiration for new post ideas wherever you go, and make sure that you're an active part of the blogging community.
This means leaving genuine, interesting comments on other peoples' blog (ideally blogs that are in the same niche, or a very similar one, as your own), replying (if a comment calls for a reply) to the comments that you receive on your site, mentioning other peoples' blogs and posts on social media (instead of just doing doing so for your), guest posting or having guest bloggers on your site, and looking for friendly, unobtrusive ways to help get your name out there in the public's eye.
Be friendly, be approachable, be polite, be interesting, be unique, and above all else be true to yourself and your personal beliefs – as well as you personal style, if you're a fashion blogger. It's great to take inspiration from other peoples' sites, but don't try to emulate the blogs and bloggers that you like/look up to so much that you risk coming across as a watered down knock off. You're interesting because you're unique, not because you're trying to be like a hundred other blogs that are ready out there.
3. Do you find social media important to your integration strategy, or is it more important to focus on communication blog to blog (e.g via comments etc?)
I would say that I've always leaned a bit more towards blog-to-blog communication and the important role that commenting (and replying to comments that you receive) can have, especially when your blog is just getting off the ground, but I definitely utilize social media as well, and can be found on Facebook (https://www.facebook.com/ChronicallyVintage), Twitter (https://twitter.com/JessicaCangiano), Pinterest (http://www.pinterest.com/vintageblog), and Instagram (http://instagram.com/chronicallyvintage). There, as on my blog, I like to post about a mix of topics, with vintage naturally being the most common.
4. You say that being unique is an integral part of building a successful blog. How do you think new bloggers can stay unique despite the huge sea of blogs already out there?
Be yourself! I know that sounds woefully overly simplistic, but it's so incredibly true. If you're a 1930s wearing, cat loving crocheter who lives in a flat in London, bikes to work, has a huge postage stamp collection, and bakes a mean chocolate cake, let the world know! Embrace and share your talents, your wisdom, your passion, your experience, your dreams, and those things that bring you joy. Who cares if you've never seen another blog or blogger just like you! That's a good thing, not a bad thing. Oscar Wilde famously said, "Be yourself; everyone else is already taken", and that's a philosophy that I live, and blog, by everyday.
Most people love to see happiness, genuineness, integrity, creativity and originality, all qualities that the vast majority of us already posses to some capacity. Lean on your strengths and your best assets as a interesting, beautiful human being and let your voice shine for all the world to see.
5. If you could give just 3 pieces of advice to new bloggers currently building their niche and following, what would they be?!
In addition to the points already covered above, I would tell new bloggers to brace and pace themselves, this isn't the easiest of journeys, especially if you're aim is to become a highly (or even relatively) successful blogger, and it's easy to underestimate the amount of time, effort, and creativity needed to blog on a regular basis.
Learn from your mistakes, don't be held back by them. To err is to be human, and even the best and most successful bloggers all have things they probably wish they could have done differently (or not done at all) when they were starting out. It's okay. Mistakes and regrets can help us grow and flourish, so extract the silver lining from each, dust yourself off, and remember that you get to start fresh again in the morning.
Follow the Golden Rule. In blogging, as in life, do unto others (in the blogging community) as you would have them do unto you. Remember that your time is no more important than anyone else's, that kindness is always a mark of integrity, that helping someone out can do wonders for both parties involves, that like begets like, and that you reap the seeds that you sow.
6. And finally, who are your bloggers to watch?!
I was just thinking about this topic the other day. There's a circle of probably about 500 to 1000 different blogs that I have some degree of contact with multiple times throughout a given year. I certainly don't follow or comment on this many blogs regularly, but they're part of my niche and/or related ones, and I'd know them to see them, so to speak. Of that number, I'd say I have more frequent contact with about 250, and very frequent contact with about 150, many of whom I follow by feed reader and regularly comment on their posts. These people inspire, teach, and bring me happiness with their sites day after day, year after year.
I love all of my favourite blogs for reasons that are both similar (we're huge vintage, history, crafting, cooking and/or fashion fans) and unique, and count many of the people behind them as a personal (online) friends, which is something that can truly help you build and grow your blog and its flowing unto itself (as your friends may be more inclined to link to you, mention you on social media, ask you to guest post, etc).
If you's like to be featured on the Blogger's Lounge please contact