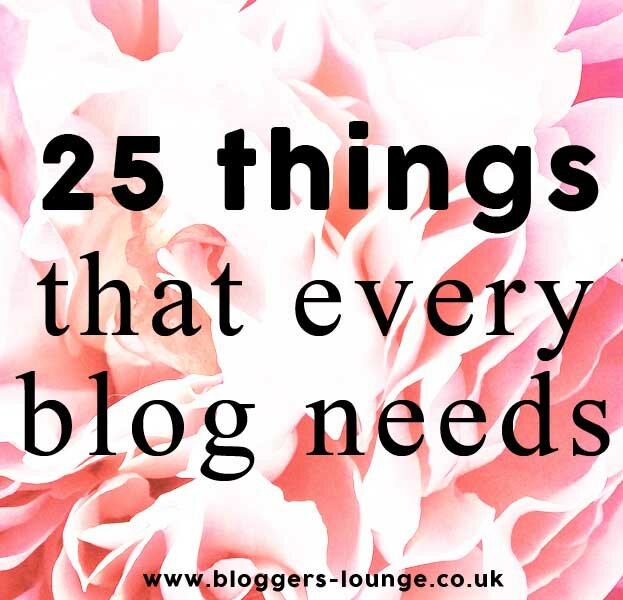 Every blog is unique, but when it comes to building a successful website there are certain things that every blog needs! Use this checklist to make sure you have the best foundation possible to reach your blogging goals.
Social Media
1. Social Media Buttons
An obvious one to start with! Don't hinder your progress; make it as easy as you can for people to follow you on social media.
2. A Twitter Widget to Display Your Latest Tweets
If the social media buttons don't work- this will! A widget displaying your latest tweets is a great way to prompt new readers to follow you. You'll see one in our sidebar if you need an example.
3. Pinterest Follow Board
Pinterest is so incredibly visual, so it seems a shame to have a follow button without some nice imagery! The 'latest pins' widget is great, giving your readers a snapshot of your latest activity on the site.
4. Pin It Button
Make it easy for people to share; having a pin it button which appears as soon as someone hovers over your photos will really help boost shares on Pinterest.
5. Facebook Follow Button
Simple and effective; if you have space make sure you add one to your sidebar.
Design and Sharability
6. A Clean, Clear and Useful Sidebar
It's not just us; pretty much every blog resource out there will tell you to keep your sidebars clean and clear. Audit your sidebar once every couple of months to make sure there is nothing  there that doesn't need to be.
7. Clear Categories
Make it as simple as possible for your readers to get to the part of your site most relevant to them.
8. A Simple Uncrowded Navigation Bar
Are there any categories that are now outdated or a little irrelevant? Think about revamping your navigation if so!
9. An Image Specifically for Sharing with Each Post
This works really well when it comes to increasing shares on Pinterest. When adding an image to a blog post, think first about the quality and then about how sharable it is.
10. A Good SEO Plugin
Yoast is great!
11. Share Buttons to Accompany Each Post
Having share buttons at the top of each post offers readers a quick and easy way to share their favourite pieces.
12. Someone to Regularly Reply to Comments
Hopefully that person will be you……..
13. Mailing List Sign Up Point
A mailing list is one of the most useful marketing tools you can have; if you don't have one already make it your priority in 2015!
14. Archives
As with many of these suggestions it's all about making it easy for your readers. Including archives of your old posts will make it easy for your readers to browse old content.
15. High Quality Photos
Please, no grainy images.
16. A Search Box
A search box will allow your readers to look through your blog for their favourite pieces, as well as looking for posts on specific topics. You can also find out what people are searching for, which will no doubt give you some great new content ideas if people are looking for something you don't yet have.
17. Recommended Reads at the Bottom of Each Post
This helps keep readers on your blog for as long as possible, as well as moving readers around  your site.
18. Google Analytics
It's such an important tool for bloggers, and not nearly as daunting as it sounds.  If you need some guidance take a look at our bloggers guide to Google Analytics.
Branding
19. A Unique About Me Section
Lacking inspiration? Take a look at our 5 Ideas for a Unique About Me Section!
20. A Logo/Identifiable Header
Keep it simple, you don't want to be creating new logos every 6 months because you get sick of them! Keep it simple, classic and personal to you.
21. A Blog Specific Email Address
Using your hotmail address does not look professional! Do yourself a favour and create a proper email address for your blog.
22. A Set Font for Blog Posts
Choose a font that you love, and stick with it.
23. Set Brand Colours
Chose a colour palette to use throughout your blog, social media channels and all of your communications, including email.
24. Business Cards
Really handy at blogger events.
25. A Good Headshot, or Logo for All Social Media Channels and Profiles
If your blog is not a personal one then a good logo will do. Otherwise it's definitely worth investing in a good headshot! If you don't want to, then get someone else to take a photo for you. It'll look much more professional than a selfie!
What would you add to this list?! Let us know in the comments below!