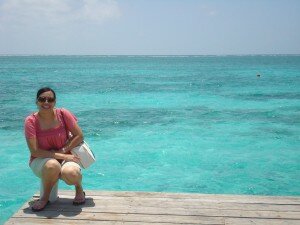 Hey Ruth! So to start, tell us about your blog for those who haven't come across it yet…!
My blog is called Tanama Tales. Tanama is a Taino (pre-Columbian habitants of Puerto Rico and other islands in the Caribbean) word which means butterfly.
I have always been fascinated by butterflies and wanted to use a variation of the word in one of my projects.  In addition, the Greek word for butterfly means souls.  So, the name of the site can be reinterpreted as tales coming from the soul. Of course, I gave it a twist by pointing to something related to my roots.
The blog is all about adding travel related aspects such as exploration, discovery and excitement to the way we live every day.  Sure, I love to travel to far and distant lands but it is not something I can be doing fulltime. Therefore, between 'big' trips, I pursue exhilarating moments by exploring my own backyard, trying new activities and teasing my palate. I write for people who can relate to that.
When did you start to travel, and how far into your travels did you decide to start up your blog?
I have been travelling internationally for most of my adult life (about 13 years).  The discovery of my 'travel addiction' came after spending a month in Europe the year I graduated from college.  Since then, I have taken about two international trips per year plus many small gateways.
In 2010, I discovered several travel blogs and started to entertain the idea of having my own site.  A year later, I started Tanama Tales. I would say the blog covers my last four years of travel.
The travel blogging niche has exploded in the past 5 years, as an experienced travel blogger what advice can you give to those just starting out and trying to make their mark?
Wow.  I can talk for hours trying to answer that question.
On a more serious note, I would say everything starts with defining the goals you want to accomplish with your blog. Do you want to earn a full or partial income?  Do you want to get compensated trips and other travel perks? Is your blog a platform for your real business?  Is blogging a hobby or an exercise in the inspiration realm?
This can sound pretty dull and similar to what is done in the 9-to-5 nightmares we want to escape but I believe it is necessary to avoid disappointment.  Blogging takes a lot of time (this has been said a million times but it is the honest truth) and you don't want to waste time in activities that do not provide the results you are expecting.
Also, it is important to get organized.  Know what activities you have to execute daily in order to create content, generate traffic / engagement and market your product.
In terms of standing out, I believe newbie bloggers should pay attention to their writing and photography.  Seriously, you want to create content your feel proud of.  After having decent content, you can start to market yourself like crazy and break into travel bloggers circles.  That should give you a good lift.
Do you think the road is harder for those starting a blog now?
I would say there is always room for good content, inspiring stories and fresh perspectives.  Every year, I see blogs that grow quickly and get huge numbers in record breaking time.  So, it has a lot to do with mindset and the effort you are willing to put.  I will certainly not discourage anyone who wants to get in the industry.
Now, with the proliferation of travel blogs, I think the bar is being set higher every day.  That is why it is important to produce top notch content and develop marketing skills.
Plus, many travel blogs kind of cover the same topics (places, activities, food, lodging) from the same perspective.  There should be space for those willing to write something different.
What are your plans for your blog over the coming year? Where would you like to see it in a year from now?
This year, I want to change the design of the blog and write more inspirational / useful pieces.  I am looking into taking some photography courses to improve the visual aspect as well.
I am also trying to promote my posts in channels such as Pinterest and Google + (I have been more of a Facebook and Twitter person in the past).
By the end of the year, I want to see my traffic numbers double.  In addition, I would like to have a bigger presence in related websites.  I have been working to develop partnerships and relationships with other bloggers.
And finally, who are your all time favourite travel bloggers?
Ohh, what a difficult question!  This is like asking me, what is your favorite country?  or, what is your favorite song?
I read tons of blogs but have to say my favorite is Globetrotter Girls.  The blog has a combination of everything I like (detailed / useful posts, tons of photos and thought provoking pieces).
If you'd like to hear more about featuring on the Bloggers' Lounge email for info!