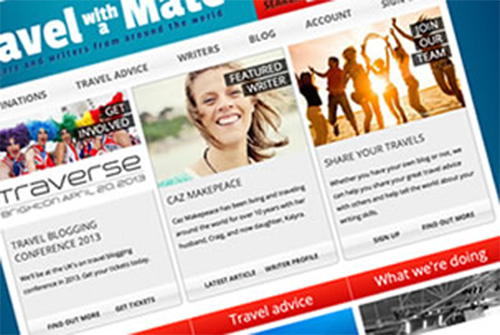 I interviewed Matt, co-editor of 'Travel with a Mate'. Read on for his views on travel blogging and how the industry looks for bloggers in 2014….
So to begin tell us a bit about yourself, and about Travel with a Mate…
My name is Matt Preston and my wife Deborah and I started blogging back in 2006. Originally just for fun but from 2010 onwards we relaunched our blog as "Travel With A Mate", which is an online magazine style blog that invites other bloggers and writers to contribute too. It's been a crazy few years of travel, site growth and now has become a full time job for both Deborah and myself. It's more than just a job, it's a way of life!
Blogging, especially travel blogging has changed and expanded a lot over the past 5 years. How have you found these changes in the industry, and do you think it's for the better or the worse?
We've been heavily involved in travel blogging over the past 5 years and thanks to the style of our site have had many meetings with bloggers, talked at conferences and run workshops too. It's definitely changed a lot as I remember back in 2010 the travel industry barely knew what a blog was let alone entertained the idea of working with bloggers. Back then we had to really fight to show people the value in what we do. We've seen a steady decline in print journalists and a rapid increase in serious bloggers. The problem has always been one of reputation. Blogging, especially travel blogging has a high number of amateurs and semi-pros who don't care about being professional when dealing with the travel industry. They can give us hard working travel bloggers a bad name so its something we've always been keen to improve. We work with the professional travel bloggers association to hopefully improve blogger's standards and be seen as a reputable business to work partner with.
I think you're also starting to see the first retirements from the pro-blogging arena. People who have been travelling the world for some time, looking to slow down, maybe even sell their blog and move on. Blogging has reached maturity now and I think while the travel blogging lifestyle can be awesome, eventually other things in life become a priority.
Do you think there is still space in the travel blogging world, for new bloggers to really make a success of what they do? Or has the niche become too saturated?
Oh there's always space for more success. Travel blogging is such a broad subject and has been covered in some wonderfully creative ways. Personally I think it's impossible to saturate any industry on the internet because websites rely on search engine ranking. As long as you can commit to producing regular high quality content and getting it noticed then you can rank higher than more established sites. The difference these days is that you're competing with pro-bloggers who understand the industry very well, so if you're hoping your travel blog will change your life you'll really need to be on the ball and learn fast.
If you could give any piece of advice to bloggers just starting out, what would it be?
Don't give up! I've seen so many travel blogs start with high hopes and quit after just a few months. Travel blogging costs almost nothing to create but does take up a lot of time. You need to make sure you can commit to it and have a clear vision of what you want to get out of it. Learn from the professionals and be professional too. Get involved in as much blogging discussions as you can and be sure to get yourself out there and noticed. Oh and be sure to register on our site and contribute, we love to work with new travel bloggers and have even sent some on press trips to represent us.
What do you see for your blog in 2014, and how would you like to see it develop?
2014 is going to be a big year for us as we're expecting our first child in June! While we still intend to travel we'll no doubt be travelling a bit less frequently than we have been so we're really keen to push our blog further and help more of our contributors achieve success with their blogs. We'll be sending more of our regular contributors on press trips and assigning more sponsored reviews to them too. We'll also be developing our other blog sites some more so it'll be a busy year for us, that's for sure!
And finally, what has been the highlight of your blogging career so far?
Wow so many to choose from. While I could mention so many awesome trips around the world and so many chances to experience things I wouldn't normally get a chance to, there is one thing about all else that is a highlight. I had been working full time on our blog since 2010 but in October 2011 my wife Deborah officially became full time on the blog too! Suddenly our ability to travel where ever we liked, for as long as we liked, became a reality. Our blog enabled us to do so much more than just travel, it enabled us to be together every day, something that might drive some people nuts but personally we love it. Thanks to our blog we get to spend more time together experiencing some of the most amazing adventures. I think most professional bloggers will agree that travel blogging is a life-changer.