So to start, tell us a little about yourself and your blog….
My name is Gemma Button, I am the founder and sole content provider for the online Beauty, Fashion and Lifestyle sanctuary , Button's Blog.  Starting out in April 2012 as a predominantly beauty blog it's safe to say Buttons Blog has been on a little bit of an adventure.  Along with beauty you can now expect Plus Size Fashion, Travel, Food, Music,love and relationships as part of the varied content available.
We love your header! Did you design it yourself?
I love it too!  No I didn't it was the lovely Laura from Hello Wonderful on twitter.  It has a lot of meaning behind it too.  The scrabble pieces represent that in life you are given the tools for a great life it's up to you to make it happen, much like a game of scrabble which gives you the letters and you have to make the words.  The jar of buttons represent the lifestyle area of my blog as my life is like a jar of buttons with lots of variety(food,travel,love,relationships) the thread and needles represent the plus size fashion side of things and off course the beauty items represent my love of cosmetics and the features that follow on my blog. The bows represent that when you feel your at the end of your rope tie a bow and hang on, in other words always keep going for times when you are struggling which I feel happens a lot in blogging!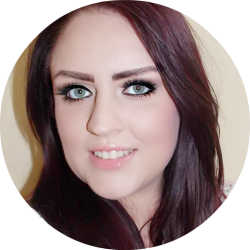 Tell us a bit about your most popular post of all time…What was it and why do you think it was such a hit?
My most popular post ever is a review of Vita Liberata False Tan I get so many views on a daily basis on this post, I think it's popular because lots of ladies are continuously on their search for 'the perfect false tanner' and reading my review will hopefully help them in their decision on which one to go for.
What is the hardest thing about blogging? - 
Finding a blog/life balance is really difficult, at the moment I am concentrating solely on my blog, so that when I return to the Uk after my prolonged visit to Morocco,  balance will be easier to achieve.  There is so much more to blogging than people realise, from post planning, photographing, editing, emails, social media and of course the writing.
Where would you like to see your blog in a year from now?-
I would love to see my blog continue on it's journey of development in the next year, I have been really trying at the moment to let more of my personality come across in my writing which I think I am achieving by featuring more posts about my thoughts on love and relationships, plus size fashion, travelling and cooking.  I would like to see my photography develop more, the past month I have changed the way I photograph things so to see that improve would be fabulous.
And finally, who are your favourite bloggers of all time?! - 
All of my favourite bloggers are mentioned in this post so chose any of those

http://www.buttonsblog.co.uk/2014/03/must-read-blogs-blogger-love-tag.html