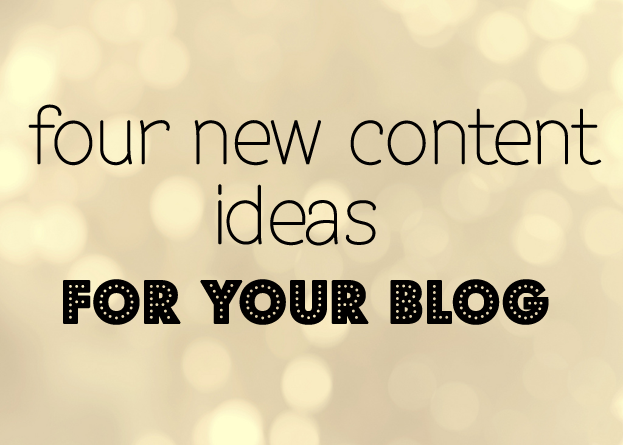 Coming up with new blog post ideas can be hard enough, but coming up with a new type of content to please your readers with is a whole new kind of challenge! Although continuity is good, adding a fresh type of content to the mix once in a while can really surprise your readership, so have a quick think this weekend and see what you come up with- here are a few ideas to keep you going in the meantime:
Create a Story with Images!
There's a reason that posts like 'my month in instagram' go down so well- people love images! This type of post can take a little bit of planning, as you'll have to work out what you want to create your story on, and how you're going to put it together. It could be something as simple as your weekend in pictures, or something more elaborate like a journey through a city- get inventive!
Write up Your Own Tutorial
Are you amazing at making mojitos? Or perhaps you have an excellent touch when it comes to repairing clothes?! Think of that one little thing you're really good at, and turn it into a DIY tutorial. These kinds of posts are so great, because it gives you a chance to tell your readership a little about yourself as well as creating a useful post with great images.
Write up an FAQ Post
This one can be really fun- and a little time intensive! Go through all the comments on your posts and pick out a few of the best questions you've been asked. Then write them up into a 'frequently asked questions' post! If you don't really get asked questions in general- that's no issue! Create a social campaign getting your readers to ask you questions- and pick the best questions to feature on your blog. In a way this option is even better, because it gives you some good social content to work with as well as a new blog post format.
Do Something Collaborative
Creating a piece of content which gets your fellow bloggers involved is always fun! Get in touch with a few of your favourite bloggers and ask if they want to work on something with you. It could be an interview or perhaps something bigger like a meet up, or a tips piece that a few of you work together on. As we all know well, the blogging world is all about community so get people involved!
There you have it- 4 ideas! We'd love to hear yours if you have any yourself, comment below and let us know your ideas for fresh content!