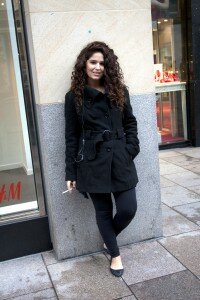 I am the kind of person whose wardrobe is inspired by what people are wearing while shopping in town centres, or eating out, or any public place in general. The amount of times I have wished I hadn't left my camera at home as a stylish fashion icon has walked by, but that confidence to approach a stranger and engage in conversation has not always been there.
If you are curious about street style photography, want to create your own portfolio, or have your own fashion blog, then hopefully this article will help you out or at least inspire you to find out more!
So you have got to grips with the basic functions of your camera, you have maybe taken the next step to Manual and all the added work that it brings to photography, focusing, light settings, ISO, the list goes on. Maybe you have gotten some of your friends to model for you and want to take the next step.
The first tip I can offer you is to try and remember the three C's, Confidence, Contact and Conversation.
From what I have learnt over the years studying photography, my initial confidence when approaching people lasted about 20 seconds, after that the moment had passed and you would most likely end up stalking a stranger rather than talking to them! So,find a good spot in your chosen location where there is decent footfall, pay attention to the backdrop, maybe it a location where there is a nice simple brick wall? then when you have spotted somebody wearing a style you love and they are generally heading in your direction, have your camera ready, take a deep breath and just say "excuse me". Nice and simple right?
At this point they are most likely eyeing the camera like it is a snake and want to make a bolt for it. Now this can go two ways, they could be interested enough to hang around while you follow the next natural step or they could make their excuses and get the hell outta there! Be prepared for a little rejection, don't be disheartened, just brush it off and keep going.
So you have a fashionable stranger standing in front of you, they are interested in what you are up to, congratulations! Remember "Contact" – not physical, try not to get weird, a little eye contact goes a long way, show them you are calm, in control and even if this is one of the first people you have approached, pretend its not! Speak clearly and slowly, give them a compliment; you have stopped them for a reason after all and don't forget to smile!
This communication will naturally follow into a conversation, explain what you are up to, whether you're taking pictures for your fashion blog, photography project or simply developing your photography skills. Don't be afraid to ask them what they are up to, ask which shops they love, get a little friendly banter going! Try not to waffle too much; you don't want to miss your chance to photograph them. By now you should feel a lot more relaxed the hard part is over, ask them if they would like to have their photo taken, if yes job well done, get your shot and thank them, if not you have still achieved an approach and conversation.
Once you have captured your first street style image, you will feel amazing at what you have achieved and there will be no stopping you!
When you are framing the image be conscious of your surroundings, you don't want a council bin ruining your shot or a stranger "photo-bombing". For this style of photography I prefer shooting at waist height in portrait. You get a good length, the entire outfit and without getting too technical, with the help of a low aperture you can achieve some nice background blur. Normally when a camera blocks the social communication of conversation, your subject, depending on their confidence might freeze up again, just remember to multi-task and to keep them feeling comfortable to get the image you deserve after all that hard work.
Finally the only way to start seeing some good results is to get out there, practise and have fun.
Here is one of my favourite street style photography shots, It was taken in Cardiff last year, I love how relaxed she looks. For me street photography isn't just about what they are wearing it is how they wear it.