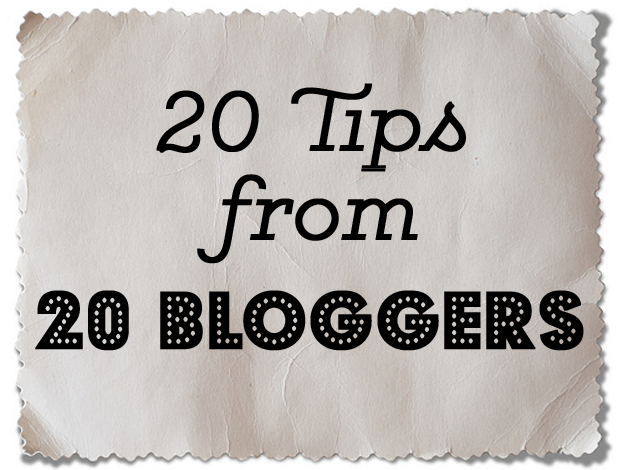 A short while ago, we asked you to tweet us your best blogging tips for a feature- and the response was incredible, so first off a huge thank you to everyone who took part! The tips were just what we were looking for- honest, varied and incredibly useful; in the end it was a great shame to only be able to pick 20! We've taken a look through all your tweets, and here are the 20 we've chosen to feature. Please tweet, share and pin to your hearts delight! And stay tuned…..we'll have more features for bloggers coming soon

Miss Noodle Bug missnoodlebug.blogspot.co.uk
"Buy a pocket journal! You can carry with you. This way you can make notes & schedule any posts you might have ideas for :D"
Beauties Unlocked Beautiesunlocked.blogspot.co.uk
Always make time to read and comment on others blogs. You pick up inspiration and it makes their day too. comments = smiles
Ishari De Silva Weddings http://www.isharidesilvaweddings.com/
Quality Control – always make sure your posts are researched well and inc all the relevant information and links.
A South Wales Blog asouthwalesblog.blogspot.com
If you've lost motivation, take a break, don't force yourself to write, you'll come back with motivation and good ideas!
Aprons & Shoestrings  apronsandshoestrings.com 
Network, network, network! To get your content noticed you need to promote it to the right audience
Booktastic Reviews onceuponabook-rachel.blogspot.co.uk
Answer comments on your own posts so as people feel like you're paying attention to them and appreciate their contribution!
The Weegie Kitchen theweegiekitchen.com
If food blogging don't JUST write a recipe. Write a story or funny anecdote around it to grab readers attention
Hello the Mushroom http://www.hellothemushroom.com/
Be social! Share other people's content as well as your own and interact with other people.
Life as a Petite http://lifeasapetite.blogspot.co.uk/
Be yourself, take your time and blog about what YOU want. The best content comes from the heart.
Belle by Zoë http://bellebyzoe.blogspot.co.uk/  
When writing always think to yourself "is this a post I'd like to read?". Self assessment can go a long way to success I find.
Way Out Wedding http://www.wayoutwedding.com/  
Don't be afraid to make mistakes. It's how you learn plus they form the basis of fab business of blogging posts!
Crime of Fashion thecrimeofashion.blogspot.fr
Have an editorial calendar. You don't have to follow it but it's always a good back up.
West End Wilma westendwilma.com
Never compromise your honesty when blogging. Remain true to yourself – that's why people read it.
EdinBloger http://www.edinblogger.com/
A large proportion of traffic comes from mobile devices, a responsive design is key to improving your readers' experience
Reviews on Beauty http://www.reviewsonbeauty.blogspot.co.uk/
Take good photos – use natural light from a window, have a plain background and make sure the camera is well focused!
Obvious Leigh obviousleigh.co.uk
Keep your blog organised for your readers to find your posts easily

Made in Hunters madeinhunters.blogspot.co.uk
Interaction breeds interaction. Make sure you're active in the community. Comment, tweet and share.
Mademoiselle Mademoisellewomen.wordpress.com
Keep your contacts – Filofax optional. When emailing other bloggers, always be polite!
Cuddles and Muddles cuddlesandmuddles.wordpress.com
Don't get too hung up on your stats! They can be a useful tool but aren't the most important thing to focus on
Blunts Book Blog bluntsbookblog.wordpress.com
No inspiration? Back away from the blog&get out into the world&do something. That's where great ideas will be waiting 4 you!
So there you have it, 20 tips from 20 bloggers! What's your tip? Comment below and let us know…