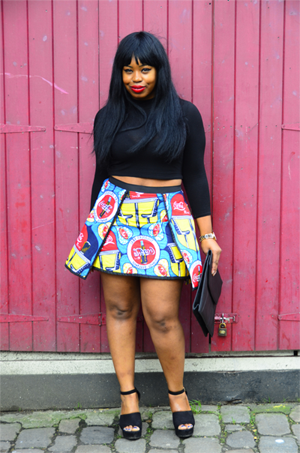 Before we start, tell us a bit about yourself and your blog for those who don't know you…
Hey guys, my name is Shanté Stephens and I am a recent law graduate. I am a hard worker and a very determined individual. I love meeting people from different backgrounds,  as you only life one life- it's best to get to know as many people as you can around the world I say! I have a plethora of loves which include; fashion (obviously); acting; law; travelling and charity work.
I started my blog- Shanté Says Style- just under a year ago, and as the title suggest, I started the blog to show the world my take on things- from my fashion and what I love, to the places I eat. Style is all about YOUR way of doing something. I love dressing unique and finding pieces that get people asking questions like 'where did you get that?!' Plus, I like looking back on it as an online fashion journal, documenting my fashion diary.
You have a really bold unique style! We love it….do you think a future career in fashion could be a possibility for you?
Ahhhh thank you. You know, I will not rule it out. It is definitely a possibility. To work in fashion would be amazing. I love it and to be constantly surrounded by fellow like minded stylish people would be ace and no doubt highly rewarding.
What made you want to blog about fashion? You have so many other interests like law and charity…what made fashion stand out for you?
For quite a while now, I have always been tempted to blog about my outfits and all things style, but I guess it just wasn't meant to be, until, last year February that is. I got pushed by three different people on one day (check out my very first post!), and so I believe that that was the sign I was waiting for to start blogging about fashion. Furthermore, I've always dressed the way I have wanted to dress, regardless of what people say is right for my size or not- if I want it, I'll get it, even if I had not seen someone like me rocking it. So, I wanted to show the world this too, with the aim of hopefully inspiring others to, basically, wear what they want.
I have not forgotten about my other interest in doing so, as I have also produced blogs for my travels in China and in Rwanda. Admittedly, I did actually start a blog during my first year of studying law, with the aim of documenting my degree over the years…guess that didn't work out. Haha!
What's been the highlight of your blogging career so far?
I started my blog less than a year ago, and I will have to say that feeling the love from fellow bloggers has been the highlight so far. My blog obviously still needs growth and more recognition, and I want to meet many bloggers from it, especially plus size bloggers in the UK. I have admired the plus size bloggers community in the States for ages, and I would like it to be just as big and powerful and heard of in this country. I would also like to get some modelling work from my blog too, I know that I would represent brands in a very unique way!
What advice can you give to those hoping to start a fashion blog in 2014?
Go for it! Make your blog how you want and stay true to your style, and just ramble if you want to, that's what I do haha!
And finally, who are your favourite bloggers right now?
Way before I started blogging, I have always enjoyed reading 'Gabifresh' by Gabi Gregg and 'Where did you get that?' by Karen and I still do. They are awesome.  Also I really like my university mate, Isabelle's relatively new fashion blog- Issie's -Vision. There are too many to name, I'm constantly reading a blog of some kind!
You can check out Shanté's blog here: http://www.shantesaysstyle.blogspot.co.uk/