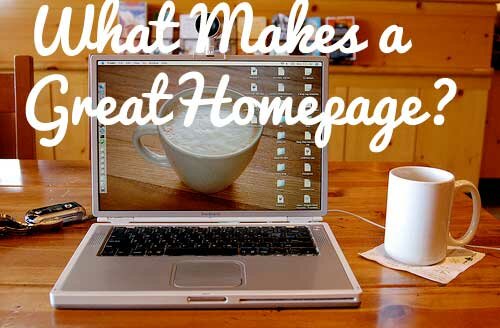 Every homepage has a different requirement, and of course yours should reflect the individual nature of your blog. However there are a few simple improvement tips that apply to most sites, so if you're thinking about a redesign or just a couple of adjustments here are a few pointers on what makes an attractive homepage.
Great Navigation
Homepage navigation is more important than I can express in these few words. A complicated navigation bar with boundless options is not only going to look a bit of a mess, it's going to stop people getting to where they want to be on your site- ultimately using you return readers. Work out why people are visiting your site, and if you have excessive tabs and options then think about scaling down.
Less is More
A homepage is not an opportunity to bombard your readers with as many different articles as you can possibly fit on one page! It's a chance to introduce yourself, display a selection of content and lead readers into the rest of your site and onto the pages they need to be. Be selective about what sits on your homepage and don't overcrowd it with hundreds of articles new and old!
Consider Getting a Logo
They look smart, and that's pretty much the size of it! A nice looking logo in your header is going to lend a professional feel to your site. You could try making one up yourself, or perhaps tweet out to your followers- someone is bound to know a good designer!
Make your Contact Details Easy to Find
Believe it or not, people can be kind of lazy. If someone wants to contact you make sure they're able to easily and clearly.
Space is Often as Important as Content
Don't feel that every last pixel should be filled with a photo, logo or blog post. Let your content do the talking and allow space for your readers to easily pick out what interests them. Not only does plenty of space make a site easy to navigate, white space on a blog just looks good! Not only this, but heavily patterned crowded sites start to look dated fast.
Thinking of revamping your homepage soon? Leave your tips or questions below!