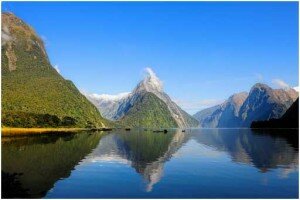 THIS COMPETITION HAS NOW CLOSED!
Ever dreamt of zooming all over New Zealand by road and seeing the sites from Auckland to Christchurch and everywhere in between? Well, we might just be able to make your dream come true! We've teamed up with Gapyear.com, the essential gap year travel site, and have an epic trip for you to win.
With the Stray Moe Pass you can enjoy a 21-day adventure departing from Auckland and ending in Christchurch (worth $1,455). Trip highlights include: a stay in a wilderness lodge in Raglan overlooking NZs premier surfing beach, visit to Lake Taupo (perfect for skydiving!), a hike over the Franz Josef glacier, visit volcanoes in Tongariro National Park, a stop off in Wellington, Queenstown and Rangitata for Lord of the Rings scenery! There are loads more places included on the trip too – check out the full itinerary here.
If you're a travel nut or already planning to be in NZ sometime soon, this is the perfect opportunity for you to get to grips with the country. You'll have to make your own way to New Zealand as unfortunately flights are not included this time, but if you win it could be the perfect chance to embark on a trip of a lifetime!
How to enter
We want to hear about Your Biggest Adventure. Let us know by writing a blog post explaining what and why it was (or will be!). This can be anything from your most memorable holiday or expedition to achieving a lifetime goal, undertaking a challenge or any exploits you're planning for the future you'd like to tell us about.
If you're interested in taking part contact for further details, and fill in a copy of the form on the right if you're not already a member of the Bloggers' Lounge. Remember to add some social love by Tweeting to and with the hashtag #mybigadventure.
Terms & Conditions
This competition is open from Monday 24th March to Monday 22nd April.
The winner will be decided by Gapyear.com and the Bloggers' Lounge.
The winner will receive a 21 day Moe Pass travel package from straytravel.com worth $1,455 New Zealand Dollars, dates for this to be taken on to be arranged in collaboration with gapyear.com.
Flights or travel to New Zealand is not included. If additional activities on the trip are added on, the winner will have to cover the cost of this.
The competition is closed to relatives of Gapyear.com and the Bloggers' Lounge.
We reserve the right to terminate this competition before the closing date.