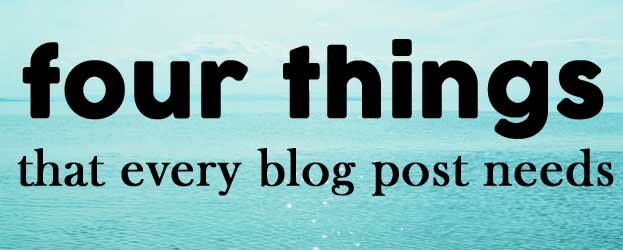 Aside from your personality, style and tone there are certain things that every good blog post should have. The following elements are essential for various reasons; sharability, SEO optimisation and usefulness most of all! The first concern you should have is that your post is well written, and well tailored to your audience. Once you have that down, it's time to make sure all the finer details are in place to make sure your post has the best chance possible; so here are 4 things that every blog post should have!
1. A Call to Action
Add a call to action to the end of each blog post to boost your following and reader interaction. A call to action can correspond to any goals you currently have in place for your blog; for example if you're focusing on trying to get more conversations going in the comments section, add a call to action that asks people for their opinion. Here are a few points you might want to consider having as a call to action in your next post:
Tweet us your thoughts
Let us know what you think on Facebook
Follow us on Pinterest for more (this only really works if the post has a visual focus)
Let us know what you think in the comments below
As you can tell- this is an incredibly simple point to implement so make sure you try it in your next post!
2. An Image Suitable for Pinterest
If you don't already have Pinterest for your blog, I really can't recommend it enough. It's great for driving traffic, and finding new readers for your blog. There's an audience for almost any genre be it food, fashion, education, travel….or anything really!
If you already have Pinterest, make sure you're using it to promote your blog posts. The best way that you can do this is to create an image for each post that you can pin to your blog's board- and that your readers can pin to! Different pins work better in different genres, so for example our blogging pins are quite text heavy as we focus on tips, but if you blog about travel, fashion or beauty then all you need are some really great shots to include in your posts and your Pinterest boards.
3. An Optimised Title
You won't be able to optimise every single title you write as there won't always be something relevant to include. However, there are some cases where you can really boost your visibility by simply rephrasing the title of your post. For example, if you're a beauty blogger writing a post about the latest Benefit eyeliner, rather than calling your posts something like 'My Latest Purchases: What I Thought' call it 'Benefit Push Up Liner Review '.  The latter is clearly a phrase people are far more likely to be searching for than the previous title, as it includes the brand and product name.
4. Links to Relevant Sites and Articles
It's really important to add relevant links to your blog posts if you need to. For your posts to be useful there are often times you'll need to link to outside information- either in another post you've written or from another site. The last thing you want is for readers to have to search for the information themselves as this will put them off reading again and will most likely drive them away from your site; however if the links are there they'll continue to read as you'll be providing everything they need!
Every blogger is different; we all have our own pre-post rituals and necessities! What do you add to your posts to help boost interaction and readership!?