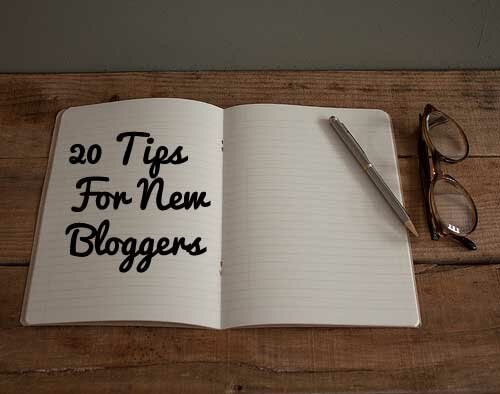 Entering the blogging world is a daunting prospect for a newbie- and the toughest thing is there are no quick-fixes! In order to create a blog which will blossom into a storming success, you need to work hard- and by the way we're talking years not weeks and months!
However- as always there are a few tips and tricks which when used alongside your blood sweat and tears can become a great recipe for accelerated success! Here are 20 quick tips to get you going, whether its readership, social following or reach you need to improve:
Research Relevant Twitter Lists
Twitter lists are lists of accounts that people build in certain niches- so if you find one in your niche take a look through and start interacting with relevant people! You could also start building a few of your own.
If you're Going to Tweet Someone, Have Something to Say!
We've all had our fair share of 'great post!' tweets before- read the post and actually say something about it if you intend to tweet someone. You'll spark up a conversation in no time.
Keep up to Date with the News in your Niche
Being one of the first to blog about an event or news story could see your readership zoom sky high. Setting up Google alerts can be a great way to stay on top of current affairs.
Be Generous and Share the Work of Others
Be part of your blogging community, get to know other bloggers and share their work as well as your own.
Post as Regularly as you are Able
I'm not going to say post every day, because for plenty of people that's just totally unfeasible. But do keep posting as regularly as you can- minimum 3 times a week if possible!
Learn from Your Readership
Don't get a great response to a post? Perhaps you missed the mark a little- so learn from it and try a different approach next time.
Twitter Chats
You need to make sure you're visible on social media, and also these chats are a great place to meet other bloggers and learn.
Think about Your Titles
Of course you must have great content to back up a great title, but think about your blog titles carefully- a good title will really get people sharing.
Interview Other Bloggers
A great way to get other bloggers interested in you and your blog. Make sure they're relevant to your niche.
Get Pinterest, and Use it
Pinterest is a great way to build a following- and not only that it's great for pulling in readers. As above- be generous here too and share the pins of others.
Make Sure Your Blog URL is Easy to Find
Put it on Facebook, twitter, email signatures and business cards- in fact put it everywhere!
Get in Touch with Other Bloggers and Suggest Guest Post Ideas
Do your research, know the blogger you're contacting- and make sure you have some great content ideas ready for them.
Vary Your Posts
Make sure you write a few long and in-depth guides as well as shorter and easily sharable content.
Don't Just Focus on Other Bloggers
There will no doubt be plenty of industry experts relevant to your niches who aren't necessarily bloggers. Make sure you interact with these people too- an interview with an industry expert is always a great piece of content.
Conduct a Survey and Post about the Results
Make it relevant to your niche- of course. A survey is a good way to get people interacting, plus when you have the results you'll have a great piece of content to write up.
Always Reply to People
Especially in the beginning! Be it a tweet, comment or email, always get back to anyone who interacts with you.
Don't be Afraid to Get Opinionated
Not aggressively so- I just mean if you have a stance on something go ahead and start a conversation!
Make Sure Your Homepage is Easy to Navigate
Updating your homepage and making sure it's easy to use is an essential part of blog maintenance.
Set Goals
Setting blog goals is a really great way to make sure that you're constantly working towards something, and improving.
Ask for Feedback
There is no one who will have better ideas on how you can improve that your following. Do a shout out once in a while asking for feedback on improvements!
Failing all that you can email me on ! I'll be happy to help

Do you have any tips for beginner bloggers? Please leave them below!